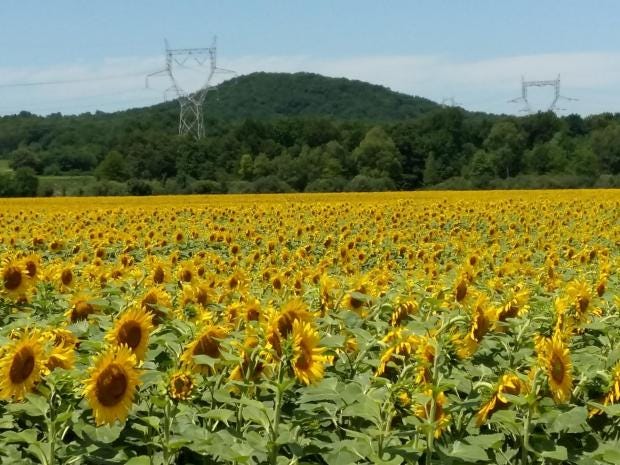 Summer holidays. We're a couple in our late fifties, we've lived in Switzerland for more than 30 years and have planned our next escapade.
It's the same procedure as last year – and the previous 15 years or so, come to think of it. Armed with maps and ideas, we choose a region of Europe that looks interesting and initially see if there are any cycling tracks. We pick a starting point and possibly an end point – sometimes not.
Many of our past trips have included rivers as a start; we have cycled the length of the Rhine from its source in the Swiss Alps to Rotterdam; we have pedalled along the Vltava, from the German border through Prague, to the place where it flows into the Elbe. Last year we cycled across France from the Atlantic Ocean to the Mediterranean. Sounds daunting to you? It shouldn't be. We are not particularly fit, we enjoy our food and wine and we enjoy a challenge and an adventure. After all, what do you have to lose?
Our list of requirements for the trip is short. One aged and well-used GPS tracker and some maps (just in case). Two old but newly serviced sturdy bikes. Three weeks' vacation time – the most impalpable resource of all. Four waterproof roller bags with our clothes, tools, spare parts and first aid kit. And perhaps most excitingly, 1,000 kilometres of road, tracks and trails to explore.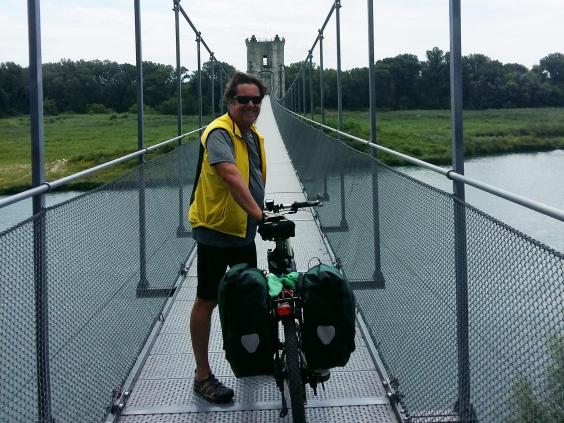 David on Himalayan Hanging Bridge near Rochemaure (Zuzana and David Cox)

This year's plan: to cycle from the Lake Geneva along the Rhone River to the point where it flows into the Mediterranean. Assuming we achieve this, and if our energy levels, time and imagination permit, then we would continue our trek to some destination before our holiday time runs out and we have to return home.
The "blue rushing of the arrowy Rhone", the "Royal river", the beautiful Rhone – the river with a purpose. Praised by Byron and Longfellow, the river that Hannibal and his elephants crossed to impact history. This was certainly on our minds as we meandered through ever-changing landscapes, cultures, flavours and aromas. Flowers and earth perfuming the air all the way from Geneva to the Mediterranean.
On our very first day, cycling to the small town of Seyssel, we travelled through amazing lush green gorges, magnificent landscapes with forts perched on cliff tops and along roads hugging the sides of the steep valleys.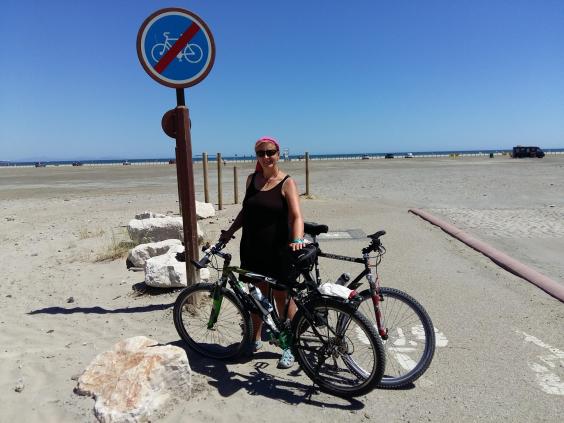 Zuzana
minds the bikes at
Plage
Napoleon (
Zuzana
and David Cox)
On arrival we rode straight into the Seyssel's annual summer festival – streets full of market stalls, boat rides on the river, and a wide range of other events and attractions including a display of BMX riding: bikes being ridden down a ramp, turning summersaults and landing in the river. We stopped by the river for an ice cold "panache" – or shandy – in a bar which appeared to be run by the landlord's dog. As we progressed down the river, and as temperatures increased, we were to learn the importance of our quest for the perfect shandy. On many days our water bottles heated up to blood temperature quickly. They may rehydrate you, but it is the perfect shandy, sparkling with bubbles, cold and not too sweet, which will cool and refresh the inside of a parched mouth!
Passing vast fields of sunflowers and fragrant lavender, through woodlands filled with the deafening constant sound of crickets cheering us on. Further south the increasing heat in the air on long open stretches of track in the late afternoon became quite intense – luckily an occasional landscape irrigation spray or a dip into the river cooled us down.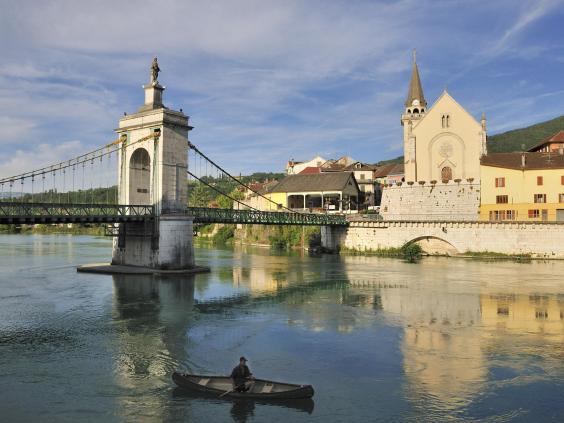 Seyssel in south-eastern corner of France: stop here for ice-cold shandy (Shutterstock)

Not to be underestimated was the inevitable disappointment of cycling into the hustle, bustle and fumes of Lyon – the first big city on our tour. Luckily, a huge comfortable hotel bed and an Italian dinner helped to compensate for the urban setting. Soon we were out of the city and again enjoying cycling up hills to quaint French villages, followed by the welcome air-in-face rewards of freewheeling down the other side.
We crossed many old suspension bridges along the river, including a hanging Himalayan bridge which required strong nerves and firm resolve to get to the other side. Of course the trip was not without its calamities – one broken wheel caused by a hidden pothole in the track and luckily replaceable at the next bike shop. Not to be outdone, the second bike suffered a puncture about 10 minutes later – its first in five years and obviously self-inflicted as a sign of commiseration with its companion.
French is such a colourful language – we assumed that the sign reading 'Fauna Sauvage' referred to the coypu families we saw swimming in the side channels of the river. Most of the time we were staying in bed and breakfast accommodation or simple hotels, but on one occasion we happened across a truly luxurious hotel – swimming pool, bath, body lotion and all. We felt it was well-deserved place to rest our weary bodies. Cycling through fruit orchards loaded with peaches, apricots and nectarines was too tempting – and how delicious is the juice of stolen fruits.
Sometimes we were lost, sometimes we were thirsty, sometimes we were bitten by mosquitos and sometimes patches of skin, which the sun cream had missed, got burnt and sore, but never were we miserable, always excited by what was to come, by the next impression, the next experience.
Although we tended to avoid towns where possible, we couldn't resist Avignon, and we stopped for a quick jig on the bridge, which actually stops half way across the river and – perhaps unsurprisingly — houses a dancing school within one of its support towers.
The realisation that the smart phone can help you navigate accurately when the GPS is overwhelmed and the maps are not accurate enough, gave us confidence.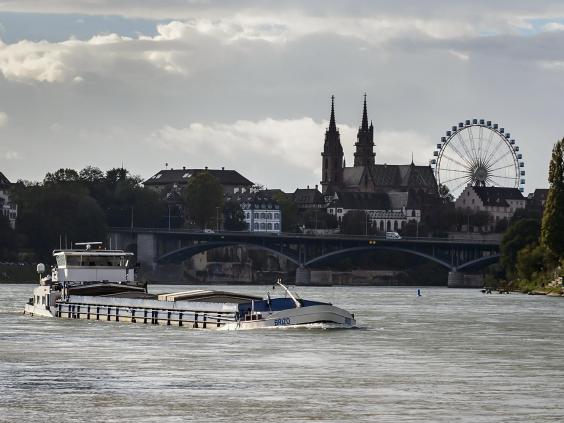 A barge on the river Rhine with Basel's cathedral in background (Getty)
Meeting a fellow Swiss cyclist on a high-tech racing bike with one tiny luggage bag heading to Barcelona who photographed all our maps before disappearing into the heat haze kept us amused. The last town before the river joins the Mediterranean is ancient Arles with its colosseum. Its history is truly amazing and a wonderful prelude to the broad white sandy beach of Plage Napoleon – the place where the Rhone and the Mediterranean unite. With 670km behind us, sandblasted by the winds and cooled by the water, it was decision time: where to next? Left or right? We had plenty of energy and more than a week remaining before we would have to stop.
Looking out to sea we choose right – west – or whatever. The roads around Marseilles are notoriously busy and the marshlands of the Camargue delta beckoned to us.
Bulls and wild horses wouldn't keep us out. A spontaneous purchase of a guidebook to the wild birds of the Camargue informed us that birds are invertebrates (huh?) and also told us we had a chance of spotting flamingoes. Right. On a bottle of wine methinks. Leaving the Camargue behind we headed to the film-set destination of Aigues-Mortes – an impressive medieval town completely enclosed by walls, turrets and gates. Shame that in places where tourism is huge, the welcome of the hotel staff is often not quite as warm as elsewhere.
With beaches beckoning again we passed some amazing pink lagoons next to a large salt factory. No point in taking a picture – you'd swear it was photo shopped. Apparently it's caused by certain crustaceans and algae, the same ones which are responsible for the pink colouring in those flamingos.
And finally we returned to the warm waters of the Mediterranean. Fantastic beaches so deserted you can strip right off and shower to get the sand out of every nook and cranny before climbing back into the bike seat.
More days of cycling along beaches and through small beach towns such as Palavas-les-Flots and Portiragnes, stopping in restaurants serving fish soup and moules frites (both to die for!), accompanied of course by the ubiquitous 'pichet' of rose wine which all the locals drink (and so should you) with ice.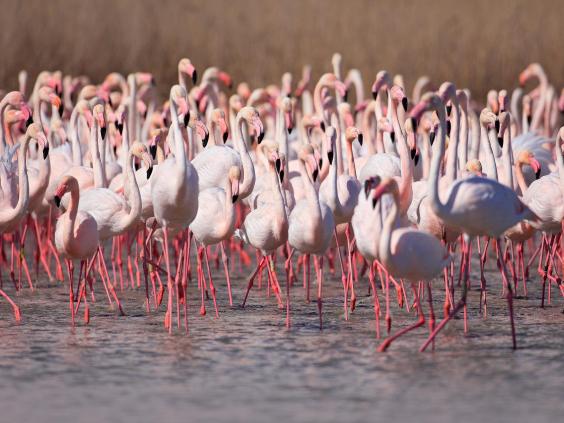 Flamingoes in the Carmargue (Shutterstock)
Occasionally we left the coast to cycle across salt marshes where you would swear it was frost underfoot (or under tire) but the briny taste convinced us otherwise.
We followed single tracks along canals, which crossed large saltwater lakes (Étangs) – water either side of us – watching birds and jumping fish. And then, inescapably, slowly, inevitably, realising the end of our journey was approaching. Energy, enthusiasm and imagination were not the problem, but that most precious resource – time – had caught up.
Just short of the Spanish border in Perpignon, and with 1,000km behind us, we reluctantly purchased train tickets. The next morning we began our 13-hour train journey home, the track crossing many sections of our route in a bizarre fast-motion backwards playback of our journey. The end of a true adventure, one which not only makes you rethink life's values but also prompts you to start thinking about next year and, inevitably, more adventures to come.
Source: Independent