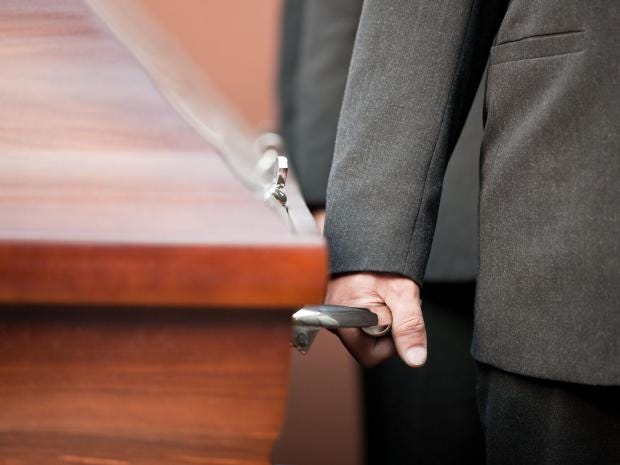 This week 13,000 people will die in the UK. They will pass away from long-term illnesses, sudden, shocking events and everything in between.
January typically sees around 26 per cent more deaths than the rest of the year. In January 2017, just under 65,000 people died.
With the most conservative estimates suggesting the average standard funeral now stands at more than £6,000, that's a combined cost of more than £388m.
And yet fewer than half of us make sufficient provision to cover our own funerals. In fact, friends and family stump up more than a third of all funeral costs – more than £2,200 each time.
For one in nine families though, research from SunLife suggests covering these costs – often at short notice – is almost impossible. Almost a quarter resorted to credit cards, one in 10 took out a loan and more than one in 10 sold belongings to cover the bill.
"Funerals are one of the fastest-rising fixed costs in the UK and in the past year alone have risen 4.7 per cent," says Graham Jones, Commercial Director at SunLife.
Stopping short
"While many people are making at least some provision, two in five leave nothing, and of those that do leave something," said Mr Jones. "One in five don't leave enough to cover the entire cost of their funeral. Trying to find this money can cause loved ones a great deal of added stress at a difficult time if no provisions are in place so it's important to consider making some plans."
This week, welfare minister Kit Malthouse announced changes to the Social Funeral Fund payment, the fund available to those claiming certain benefits for whom such a large bill would be crippling, in a bid to make it easier for people to get help with funeral expenses.
They include giving claimants more time to claim for help and access to additional contributions towards funeral costs form charities, relatives and friends without the money being deducted payable from the fund. At long last, claims will also be accepted electronically.
But he stopped short of increasing the amount available for struggling mourners, with the maximum available remaining at £700 and most claimants not receiving that. If they receive anything from the person's estate they also have to pay the money back.
"Whilst these changes will make it easier to submit evidence, in reality families will still face a difficult process in applying for support, and this can be overwhelming for them during a time of loss," says David Collingwood, director of funerals, Co-op Funeralcare.
"Two in five people organising and paying for a loved ones' funeral had to make a concerted effort to keep the overall cost down, from choosing a cheaper coffin right through to burying the deceased in the back garden," adds Jones. "One in 10 now have direct cremations – where no one is present – to cut costs, but even they cost £1,835 on average, more than double the maximum payment from the fund."
How much?
Figures from the Money Advice Service suggest that a budget cremation using a funeral director costs almost £3,500 and a funeral using a funeral director comes in at more than £4,250. This covers the collection and care of the deceased, a basic coffin, hearse and managing a simple service, but nothing more.
A funeral director's fees make up almost three quarters of the bill but other costs can quickly spiral if the bereaved hope for anything more than the most straightforward of send offs. Just buying a coffin can cost anything between £100 and £10,000.
While most of those who do make provisions use savings or investments to cover the costs, prepaid funeral plans are increasingly popular, with around 15 per cent relying on life insurance pay-outs and a further 15 per cent signing up to an over-50s plan.
Sunlife's funeral calculator may help work out how much you will need to set aside to pay for the send-off of your choice.
Looking for credit card or current account deals? Search here
Source: Independent